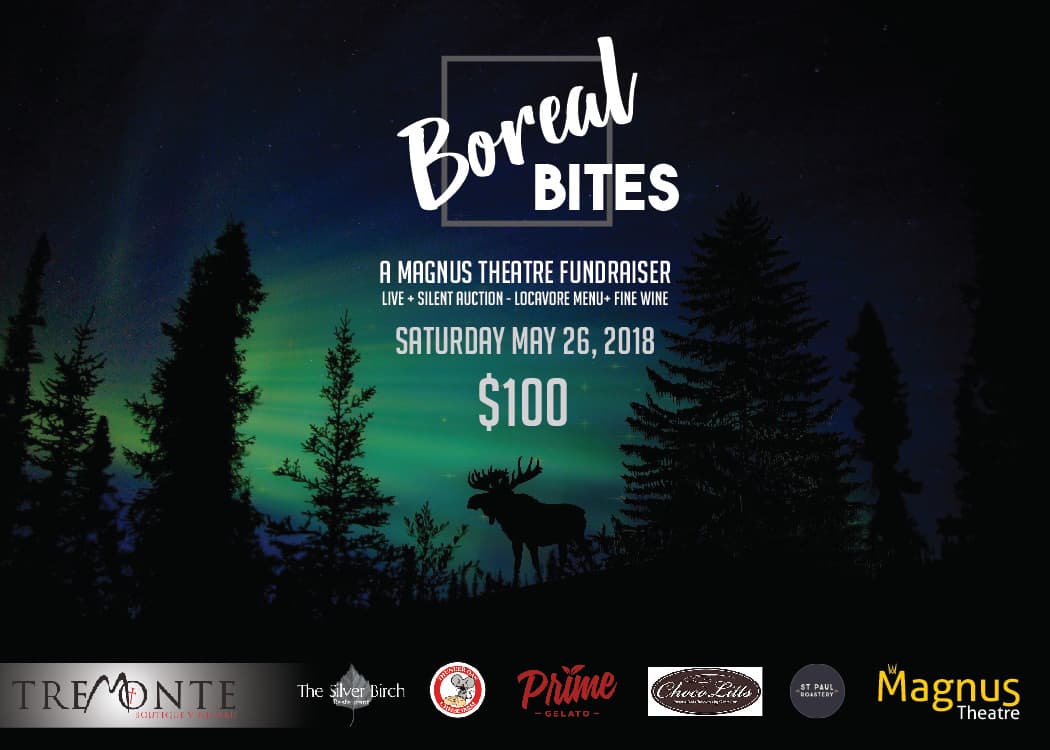 Focusing on "Boreal Cuisine", this year's fundraising dinner presented guests with an incredible culinary experience.
Boreal Bites featured Chilean wine with a local connection, Tremonte Boutique Vinyards president Silvio Di Gregorio presented
his fantastic wines with delicious food from The Silver Birch. Appetizers and desserts were included, courtesy of
Thunder Oak Cheese Farm, ChocoLitts, and Prime Gelato. St. Paul Roastery was on hand with delicious coffee
and The Posh Posy and Black and Tan Taxidermy provided the decorations with some fantastic, hand-made
pieces from our Wardrober Designer, Mervi Agombar. Thank you to all who made this wondrous event possible.
Thanks to our amazing donators for our Live and Silent Auctions:
A Little Bit of This
Afloat
A Spa for You
Atwood Labine LLP -
Neil J. McCartney
AutoHome Paints
Bean Fiend
Bearskin Airlines
Bistro One
Both Hands Pizzeria
CAA
Canada Games Complex
Canadian Tire
Caribou Highlands Lodge
Celebrations by Georges
CG Labs Corp
City of Thunder Bay - Transit
Clow Darling
Creations Body Piercing
Dog Lake Resort
Eat Local Pizza
El Tres
Finnport
Five Forks Restaurant
Fort William Country Club
Galaxy Lanes
GMK Armoury
Granite Town Cars
Hill City Comics
J. B. Evans
Jaime Morrison Makeup
Janet Anderson
Lake of the Woods Brewery
Leading Edge Gym
Love and Kindness Festival
Love One Light Design
Madhouse
Magnus Experience
Magnus Theatre
Mario CrudoMario's Bowl
Matt Carr Repairs
Mommy Can Sew
Northwest Veterinary Hosptial
Olives and Bananas
Perfect Fit Lingerie
Plateful Vegan
Prairie Theatre Exchange
Prime Gelato
Print Pros
Rossport Inn and Cabins
Royal Manitoba Theatre Centre
Ruth Tye McKenzie
Sand'n Sea
Scott Hobbs Photography
Silver Islet Cottage
Superior Coatings
Superior Vapes
Swartz Fine Fashions
Sweet Cherry Spa
The Framing Post
The Habit
The Loop
The Nor 'Wester Maple
The Painted Turtle
The Power Centre
The Strand
The Sweet North Bakery
Thunder Bay Art Gallery
Thunder Bay Border Cats
Thunder Bay Community Auditorium
Thunder Bay Country Club
Thunder Bay Rowing Club
Thunder Bay Symphony Orchestra
Uptown Cut
Vox Popular Media Arts Festival
The Wayland
Whispered Dreams Ranch
Wilderness Supply
Also Thanks to our Table Sponsors: