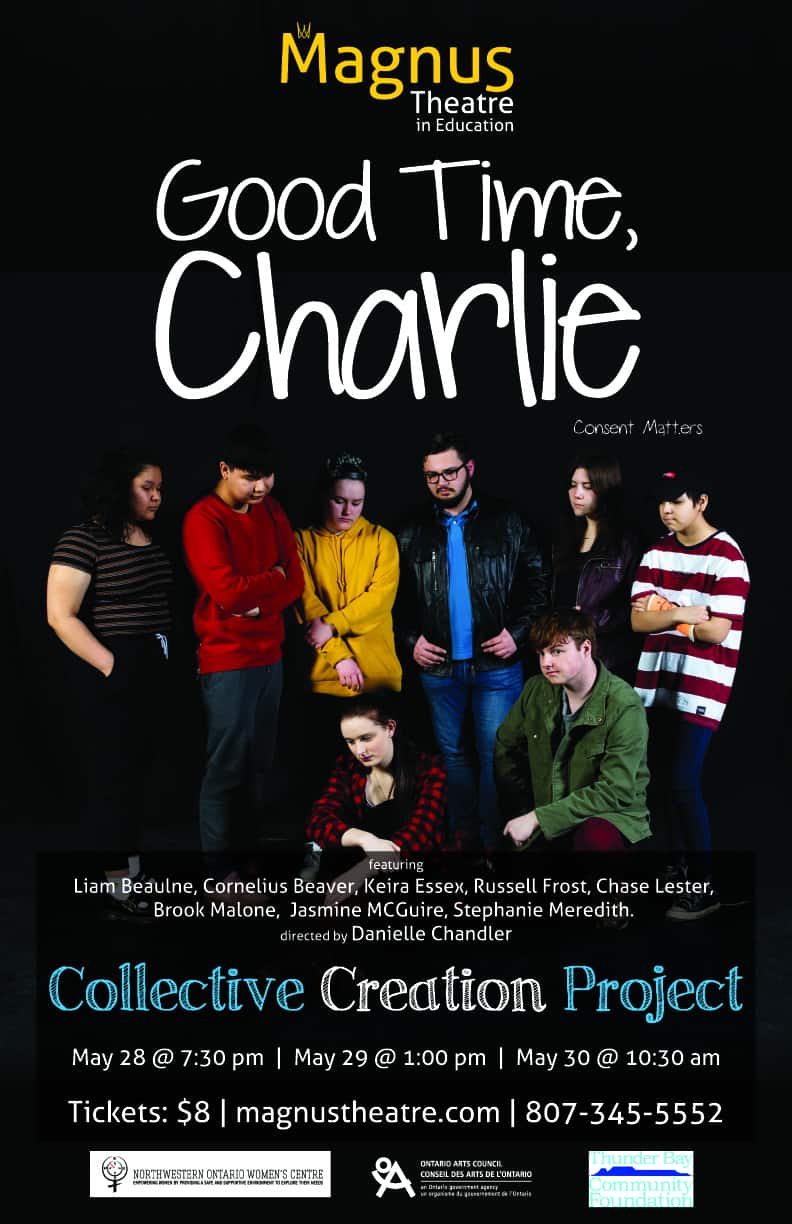 GOOD TIME, CHARLIE
Charlie is a typical teenage girl: she's preparing to graduate high school, has a part time job and spends time hanging out with her friends. Things take a turn when she attends a party, and an incident has potentially devastating consequences that ripple through her life and others. 
Good Time, Charlie examines the 'rules' of providing and receiving consent and explores the grey area between what's socially accepted and what's right.
May 28-30.
For tickets, click here, call 807-345-5552 or visit the Box Office
The Collective Creation Project is an annual cooperative effort with Magnus Theatre and local high school students. With the guidance of professional theatre staff, students from across the city come together to write a play on a social issue affecting Thunder Bay. Students are involved in all aspects of the creation of the play, from writing to acting and production. Auditions are typically held in October, with writing workshops held November through to March. Rehearsals then begin in March, with public performances on our Mainstage in June.
The Collective Creation Project is led by Magnus Theatre in Education Director, Danielle Chandler.  Danielle is a graduate of Lakehead University's Education and Arts programs, as well as theatre with an educational focus at York University. She has taught both nationally and internationally, with experience in Toronto; Tenterden, England; Melbourne, Australia and Siem Reap, Cambodia. Danielle has held the position of Theatre in Education Director at Magnus Theatre since August 2014. She previously facilitated and directed 2015/2016's Collective Creation Project BLOCKED, 2016/2017's INVISIBLES and 2017/2018's MIGRATION PATHS.
The 2018/2019 Collective Creation Project is made possible with support from: