April 8, 2020
Magnus Theatre: Covid-19 Update
Dear Magnus Patrons,
Thank you for your patience and support during this difficult time. The health and safety of the Magnus community is our foremost concern. What follows is an update on the impact that the current health crisis is having on Magnus Theatre programs and our plans to work with you to retain the value of your existing purchases. At this stage, these plans are subject to further direction from the provincial government regarding the COVID-19 pandemic.
Mainstage Performances
Unfortunately, we are cancelling the remainder of our Mainstage 2019-20 Season. If you had purchased tickets (subscription, flexi-passes or single tickets) for Cottagers and Indians or Screwball Comedy, the following options are available to redeem the value of your unused tickets:  
Donation: As a not-for-profit charity, we ask that you consider donating the value of your tickets as a tax-deductible contribution for which we will provide a tax receipt;
Ticket Voucher: For each ticket you had purchased, you will receive a voucher good for one ticket to any Mainstage performance during the upcoming 2020-21 Season; 

Subscription Credit: You can apply the full value your unused tickets to the purchase of a season or flexi-pass subscription for the 2020-21 Season;

Refund: Specifically for the Covid-19 Outbreak, Magnus Theatre has suspended our No Refund Policy. If you do not wish to donate the value of your ticket or receive a credit, you can receive a refund for the value of your unredeemed subscription or single ticket purchases.
Starting April 15, we will contact you to address the ticket option that you wish to choose. We are currently short-staffed and our box office is closed, so it may take a few weeks for us to process your request. Thank you again for your patience.
The 2020-21 Mainstage Season and Summer Production
Currently, we are planning to resume Mainstage performances on July 9 with our Summer Production, a remount of the wildly popular Back In '59.  We will also be in touch with you in the coming weeks about the exciting lineup for Magnus' 2020-2021 Season. This will be a season of great theatre that you won't want to miss.
A Note to Dinner and Theatre Package Holders
We are currently working with our restaurant partners on a plan to extend your vouchers into the 2020-21 Season. We will be providing details on this plan in the coming weeks.
Theatre in Education Program
We are planning to re-schedule the following programs: 
Magnus Minis/Youth               (Original Dates: April 18-June 13)
Masterclass in Directing          (Original Dates: April 16-May 21)
Technical Theatre for Teens     (Original Dates: March 18-May 27) 
Starting on April 15, we will be contacting registered participants to provide an update.
For participants in the Young Playwrights Challenge, The Reconciliation Project, and The Young Company, we plan to re-schedule these programs to a future date. We will be contacting you during the week of April 20 to provide an update.
Summer Day Camps
Magnus Theatre plans on providing a full slate of Day Camp programs in July and August. These sessions are an exciting venture into the world of theatre, where students will work on a variety of theatre skills, including character work, story-telling, voice, movement, improvisation and acting techniques. All classes conclude with a final performance created by the students for invited family and friends.
Magnus Theatre Summer Day camp options include:
JUNIOR YOUTH CAMP (AGES 6 – 8)
July 6-10 OR August 10-14                        $190
9:00 a.m. to 4:00 p.m.
INTERMEDIATE YOUTH CAMP (AGES 9 – 12)
July 13-17 OR July 27-31                           $200
August 4-7                                               $160
9:00 a.m. to 4:00 p.m.
JUNIOR-INTERMEDIATE CAMP (AGES 6 – 12)
July 20-24                                                $195
9:00 a.m. to 4:00 p.m.

TEEN CAMP (AGES 13 – 18)
Aug. 17-21                                               $210
9:00 a.m. to 4:00 p.m.
Registration for our Summer Bay Camps opens May 5th. To register, please visit www.magnustheatre.com/education or call the Box Office at 807-345-5552.
Thank you again for your support during this extended public health crisis. We look forward to opening our doors soon so that we can once again bring professional live theatre to residents of Northwestern Ontario.
Sincerely, 

Katy Commisso                                                                                                                Thom Currie
President                                                                                                                         Artistic Director
Magnus Theatre                                                                                                               Magnus Theatre
---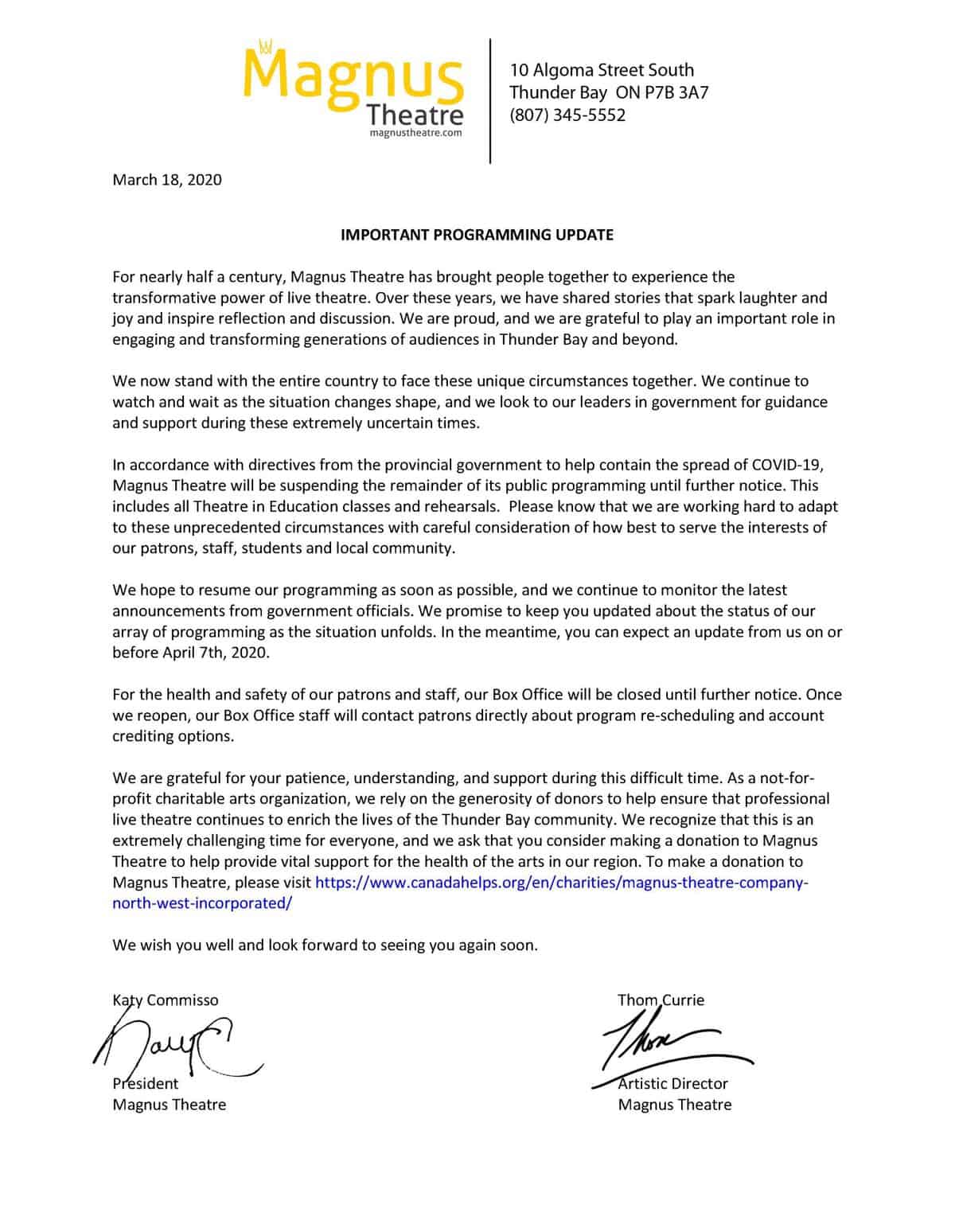 Click Here To Donate Through CanadaHelps.org
IMPORTANT PROGRAMMING UPDATE
March 16/2020
It is with great sadness that Magnus Theatre announces that all remaining performance of Cottagers and Indians have been cancelled, effective immediately, due to ongoing concerns about the spread of COVID-19. While this has been a difficult decision to make in these rapidly changing circumstances, the health and safety of everyone in our community continues to be our top priority at Magnus Theatre. We will provide updates about the remainder of our season as the situation continues to unfold.
"Cancelling the show and suspending the season has been a very difficult decision to make, but it's the right decision at this time. It's what's best for our patrons, staff, and community at large," says Magnus Theatre Artistic Director, Thom Currie.
Our Box Office staff will be contacting our patrons directly to offer alternative ticket and programming options. If you wish to contact us, please note that we are currently responding to a high volume of inquiries. Please be prepared to leave a message, and we will respond as soon as time allows.
We are grateful for your patience, understanding, and continued support during this difficult time, and we hope to see you soon.