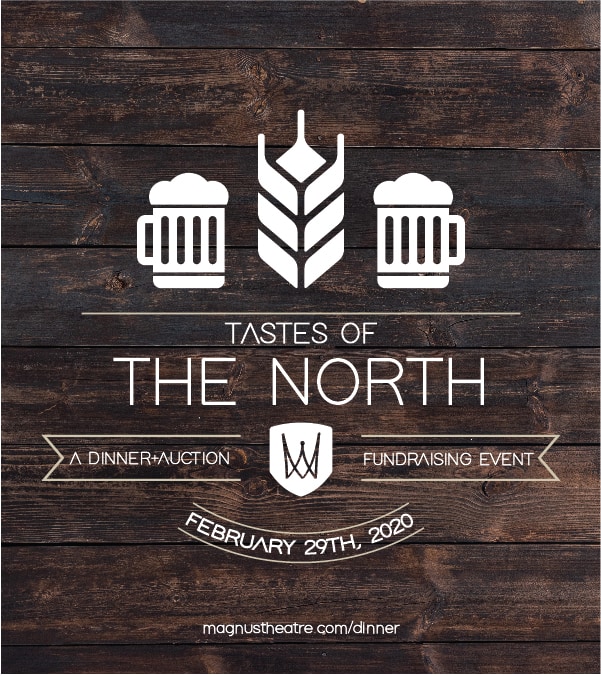 Some of our auction items include:
Round trip flight for two to Winnipeg courtesy of Bearskin Airlines and two tickets to a performance of Royal Manitoba Theatre Centre's 2019/2020 John Hirsch Mainstage production of A Thousand Splendid Suns or The Legend of Georgia McBride
Lakefront cottage rental for two nights at Mink Mountain Resort
A family season pass from Lappe Nordic Ski Centre
Lounge room rental at The Chanterelle
"Off the grid" weekend cabin camping experience at Scott & Rohnda's Resort
Two-night weekend stay at the Delta Hotel by Marriott Thunder Bay, Jacuzzi Suite at the Prince Arthur Waterfront Hotel and hotel stays the Courthouse Hotel, the Best Western Nor'Wester, and the Victoria Inn Thunder Bay or Winnipeg
Guided rock climbing or ice climbing adventure for two with Outdoor Skills & Thrills
Golf experience package from Fort William Golf & Country Club
Brand-new designer sofa with high-end Sergio Peppercorn upholstery
Flowers from a year from Vaillant Florist
Photobooth rental for your event from InstaBooth TBay
Escape room experience for four at Countdown Escape Rooms
Horseback riding sessions at Whispered Dreams Ranch
Family membership and gift bag from the Thunder Bay Art Gallery
Select 6 subscription to the Thunder Bay Symphony Orchestra
Gift certificates to various local restaurants including Tomlin, Madhouse, The Sovereign Room, Tony & Adam's, The Keg, Caribou, On The links, Beefcakes Burger Factory and more!
Gift certificates to local shops including The Cheese Encounter, Blackfoot Baits & Variety, Kelly's Nutrition Centre & Juice Bar, Thuja Floral Design, The Loop Clothing, Circle of Friends Quilt Shoppe, Irma's Bridal Boutique, Bean Fiend, Thunder Games & Gifts and more!
Cool products from local businesses and shops including Heartbeat Hot Sauce, Finnport, Wintering House Designs, J.B. Evans, Authentique, Comix Plus, The Habit, Seek Adventure & Tours, Olives & Bananas, St. Paul's Roastery, Jams & Jellies, Sand 'n Sea and more!
Spa, beauty and wellness packages courtesy of Afloat, Stella Wax Bar, Allure Medi Spa, Lovely Body, The Nail Lounge, La Luna Wellness Studio, Barbershop and more!
CAA Plus Membership compliments of CAA North & East
Butterfly workshop experience for two from Despres Metal Artwork
"New Year" – a Roy Thomas Giclee canvas print from Ahnisnabae Art Gallery
And much more!
February 29, 2020, @ 6:00 pm
Magnus Theatre invites you to celebrate this extra day of the year with Tastes of the North, our annual Dinner + Auction.
In partnership with Lake of the Woods Brewing Company and Prince Arthur Waterfront Hotel, this year's event will feature a dinner menu designed with craft beer in mind.
Warm up your taste buds with flights of beer specially selected to complement a three-course meal that shows off the culinary diversity of this great region. Lake of the Woods and the Executive Chef from the Prince Arthur Waterfront Hotel will provide expert commentary to guide your palate through these delicious gourmet creations.
Dinner will start with an appetizer of smoked salmon with honey dill aioli, served with Sultana Gold Blonde Ale breadsticks. The main course is an 8-ounce Frenched pork chop marinated in Channel Marker Citra-Lite, dredged in a five-spice blend, cooked to a golden brown and served with baby bok choy in garlic and Big Lake Pasta, drizzled with a sweet chili sauce. Dessert will be a freshly made blueberry bannock baked in egg and Forgotten Lake Blueberry Ale and finished with vanilla ice cream and maple syrup.
Tastes of the North will see the Magnus stage transformed into a rustic dining hall, exuding an atmosphere of coziness, comfort and conviviality meant to inspire feelings of wellness and contentment in the winter months.
The Magnus lounge will host a silent auction made possible from the generous donations of a variety of products and services from local businesses and supporters. A live auction will follow dinner, so get your paddles up and bid on dozens of awesome items and getaway packages.
Stay tuned for an updated list of our auction items!
Magnus Theatre's annual Dinner + Auction is our largest fundraiser of the year. We rely on public support to continue delivering a high-quality theatre experience through our Mainstage programming and regional touring. Magnus Theatre also offers professionally led classes and workshops for people of all ages and continues to build and strengthen community partnerships to benefit the region. Proceeds from Tastes of the North will go toward upgrading our existing footprint and restoring the iconic Central School House to meet the growing demand for our array of programming.
Tickets for Tastes of the North are $100 and are available at the Magnus Theatre Box Office or by phone at 807-345-5552. Purchase your tickets online here.