Magnus Theatre and The Playwrights Guild of Canada proudly announce the 2019 Playwrights Unit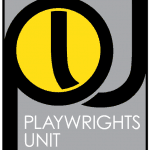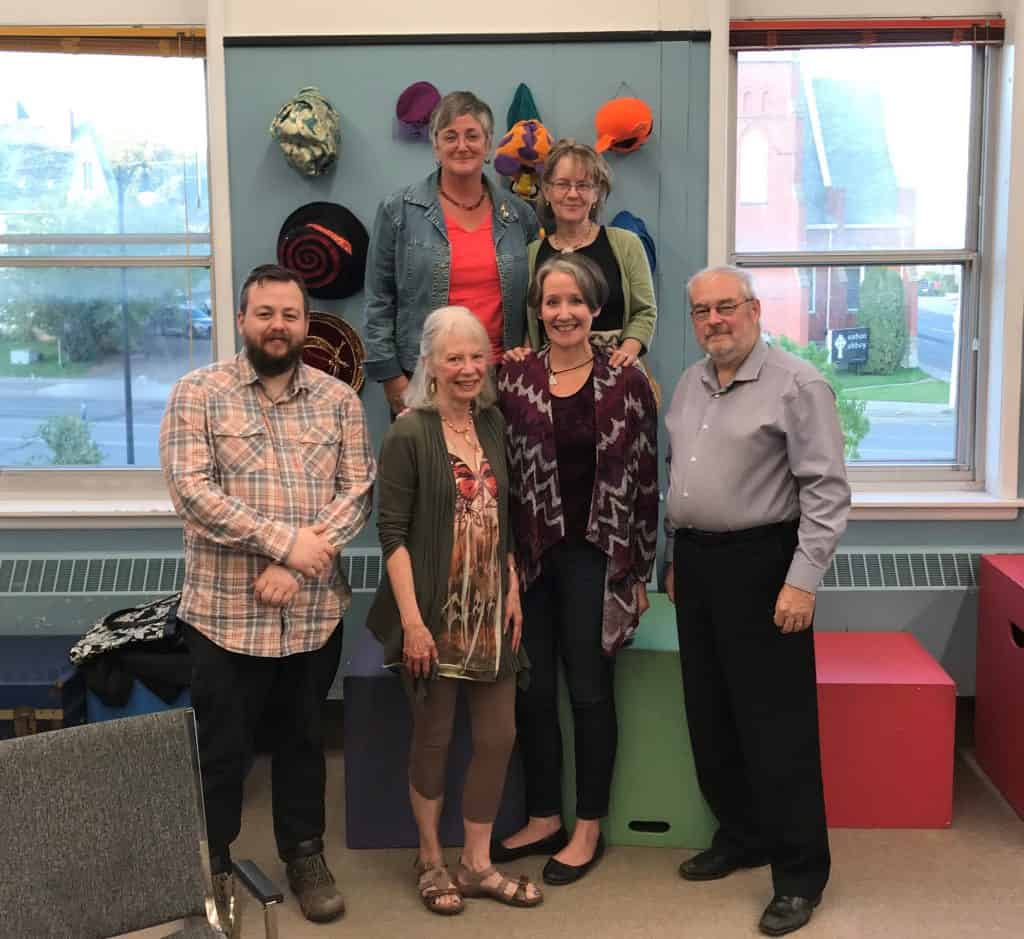 (Members of the Playwrights Unit meeting for their first workshop at Magnus Theatre on September 23, 2019) 
These six Northwestern Ontario playwrights will meet weekly to support each other in the creation of new work for the stage.
Playwrights will:
Commit to one writing project for a ten-week session
Receive dramaturgical support from Pat the Dog Theatre Creation
Present excerpts of their works in progress in a public reading in December
Network with visiting theatre artists
Be offered professional development opportunities through Magnus Theatre performances and master classes
Magnus Theatre created this unit in 2019 and invited playwrights who are members of the Playwrights Guild of Canada and/or have had multiple plays produced on stage.
Goals:
To nurture the development of Northwestern Ontario playwrights
To read, discuss, revise, and present new work
To strengthen the artistic community in the region
The Playwrights
ELEANOR ALBANESE
Award-winning Canadian artist Eleanor Albanese has spent her life immersed in theatre and writing. Eleanor's radio drama, The Novena Sisters, aired nationally on CBC radio's Sunday Showcase Series and her full-length drama, The Two Rooms of Grace, was included in the 4th Annual International Women Playwrights Festival in Ireland. Her play for family audiences, Night Wings, was the inaugural production for Superior Theatre Festival. Eleanor's numerous plays for young audiences have toured nationally from coast to coast. Productions include an adaptation of Pinocchio (first production Young People's Theatre), East of the Sun; West of the Moon (first production Motus O Dance Theatre), Zak & The Magic Blue Stone (first production Theatre New Brunswick) and numerous other plays. Eleanor's plays are published in three anthologies with Playwrights Canada Press. Her novel, If Tenderness Be Gold, published by Latitude 46 Publishing will be available in print in March 2020. Recent published works include The Queen of Peter Street, published by Canadian Woman Studies: les cahiers de la femme, A Season of Cloudberries published by Arctic Journal, The Runaway Train published by Walleye Arts Magazine and A Thread to My Mother's Kitchen published by Burning Books Press. A sampling of her theatre awards include 1st place Sybil Cook Award for her play Night Wings, finalist with Maxim Mazumdar New Play Competition (Alleyway Theatre, NY) for Dancing on Salt n' Snow.
C. B. CAMPBELL
C.B. (Charles) Campbell has been writing for decades, but only recently turned to live drama. A long-time theatre-goer, Charles took the opportunity to write and submit a play for the 2015 10x10 Play competition. Since that time he has had three plays produced in the 10x10 Play Showcase. In 2015, his first play, Passings, revealed a father and daughter comparing their very different memories of a grandfather. His 2016 play, Breathe, explored the subjective and emotional baggage of two siblings, also struggling with loss. In 2017, Charles took part in the 10x10 Play Showcase as a director, working to translate another playwright's vision to the stage. In 2018, he penned the humorously cynical Fake Nudes, a work that showed how far one would-be politician was willing to go to get elected. Charles is looking forward to completing and finding stage homes for some of the longer pieces he has been working on over the past year.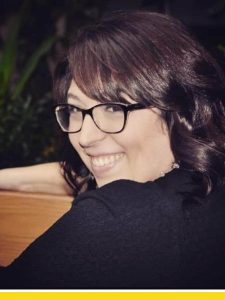 AMANDA DOIG
Amanda is a Northwestern Ontario playwright. Her plays include Tawdry Romance, Ivy Bramble's Guide to Family Living, Of Marriage Minded Misses, Clicket, and A Different School of Thought. Amanda's work has been produced by the 10x10 Showcase in Thunder Bay, and the National Newmarket 10 Minute Play Festival in Newmarket. In 2018, her play Of Marriage Minded Misses won the Audience Choice Award, and again in 2019 with her play Clicket. Amanda is an Early Childhood Educator in Thunder Bay, and enjoys writing in her spare time.
LAURE PAQUETTE
Laure Paquette has written several plays for adult audiences in English and French, two of which have been performed, and a bilingual play on bullying for young audiences. Her play, Je m'appelle Abajiya, is in the National Archives of Canada. She has served as juror for the Ontario Arts Council. Although self-taught, she is familiar with several of the world's great theatre traditions, including No, Kabuki, Beijing Opera, Indonesia puppet plays, as well as having attended experimental theatre in New York and Amsterdam. She has also read the complete works of Aristophanes, Beaumarchais, Beckett, Claudel, Corneille, Euridipes, Ibsen, de Musset, Pirandello, Racine, Seneca, Shakespeare, Sophocles and Tchekov. A polymath like many First Peoples and a proud citizen of the Metis Nation of Canada, she has published two of a cycle of six novels, and is also a photographer and painter, with works in permanent collections and represented by the Anishnabae Art Gallery. She has won a prize for one of her short stories. She has lived and worked in Thunder Bay, Ontario, for over twenty-five years. A distinguished professor of politics at Lakehead University, she helps people without power or money get what they want. Her international career includes advice to several national governments, visiting professorships in 23 countries, 19 books held in the great libraries of the world, and political commentary in national and international media. She can be reached at prudori@tbaytel.net
ANDREW PAULSEN
Andrew Paulsen has been working in Northern Ontario in film, TV, radio, and theatre for the last ten years as a director, producer, writer, and actor. He is a graduate of the Confederation College Film Program, and received a HBA in Psychology from Lakehead University. He currently runs his own local theatre group New Noise Productions. His short play The Last House was produced by the 2019 Newmarket National 10 Minute Play Festival. Local acting credits include Anastasia (Cambrian Players), Cherry Docs (New Noise productions), Between Two Breaths (Superior Theatre Festival), Miracle On 34th Street (Magnus Theatre), Tape (New Noise Productions), One Flew Over The Cuckoo's Nest (Frankly Scarlet), The Laramie Project (Cambrian Players), True Directions (New Noise Productions), and the school tour of What My Grandma Means To Say (Alzheimer Society). Local directing credits include Melvin Goes To Dinner (New Noise Productions), and Five Women Wearing The Same Dress (Cambrian Players). He likes Canuxploitation, Tarkovsky, and Hammer films, video games under three hours long, books over 500,000 words, singers with quivery voices, Ameritrash board games, cats, sad comics, and solving Rubix's Cubes. His full-length plays are Cerebrospinalis, Come and Find Me, and Moosefucker, Ontario.
SUSAN ROGERS
Five 10-minute plays by Susan Rogers have been performed as part of the annual 10x10 Play Showcase in Thunder Bay: What's in a Name? (2015), Sperm in the Fast Lane (2016), Scrabble (2017), Extended Warranty (2018) and Worth Less (2019). The last two placed second for the Audience Favourite Awards. The Indie Stream of the Superior Theatre Festival, Confederation College Performing Arts Club and 55 Plus Centre in Thunder Bay have restaged three of her plays. Susan's interest in theatre was ignited by a drama club teacher at Richmond Hill High School where she played the maid in Trespass by Emlyn Williams and Angelique in Molière's The Imaginary Invalid, sharing the stage with the later renowned Canadian actor R.H. Thomson. As well as playwriting, Susan—a former journalist and CBC producer—writes fiction and creative nonfiction. Under the Gum Tree, a literary magazine in the United States, published one of her nonfiction pieces. Four others won awards in an annual international writing contest held by the Northwestern Ontario Writers Workshop (NOWW). Confession in the Time of Social Media is one of 20 winning stories selected for Twenty Years on Snowshoes, an anthology published by NOWW.
CATHI WINSLOW, Facilitator
Cathi Winslow studied dramatic writing at New York University. As a student, she won the Scholastic National Writing Award for Dramatic Script (1984). Her original plays have been produced in New York, Los Angeles, and Thunder Bay, where she is the Artistic Director for the 10x10 Play Showcase, an annual festival of ten-minute plays, and the ACT UP: One-Act Play Residency. In July 2017, she presented her plays Rain and One for Norma and a staged reading of her work-in-progress, Speechless, at Superior Theatre Festival in Thunder Bay. She has created original works for Redwood Park Players, Plunge Student Ministries, and the 10x10 Playwrights' Showcase, as well as stage managing two plays for New Noise Productions. Cathi collaborated to develop three of her full-length plays in workshop readings: The Waking World of Sheryl Shook with Cambrian Players, Breaking Away with Redwood Park Players, and The Pirate Anne Bonny with Rogue Productions. She has facilitated writing workshops and also published poems and short fiction in various literary reviews, including Grain and The Fiddlehead. She supports other writers as a member of the Northwestern Ontario Writers' Workshop, which has featured her work in three public readings.
This program is made possible by the support of the Playwrights Guild of Canada in association with Magnus Theatre.