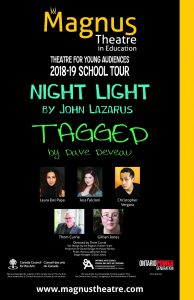 From April 8th, 2019 to April 26th, 2019 Magnus Theatre toured two plays for student audiences throughout Ontario.
For Grades K - 6: NIGHT LIGHT by John Lazarus
A bedtime monster lives in six year old Tara's chest of drawers, but only she (and the audience) can see him. Her older brother, ten year old Victor, is also dealing with a monster of his own: a school yard bully. NIGHTLIGHT examines an assortment of fears and anxieties that children face: bullies, nighttime, parental expectations and academic performance. Playwright John Lazarus uses laughter to help kids cope with their fears and to create a safe space to contemplate and talk about them.
For Grades 7 - 12: TAGGED by Dave Deveau
The anonymity of the internet allows us to say and do things we would never do in real life. The harsh realities of cyberbullying come to a head in TAGGED as an officer investigates Jerri and Webber in the relentless online harassment of a fellow student. Torn from the headlines, TAGGED dissects the dangerous potential for harm that exists between social media and young minds.
THEATRE FOR YOUNG AUDIENCES TOUR INFORMATION AND BOOKING FORM
Each show runs approximately 45 minutes and will be followed by a question and answer talk back session.
A Study Guide created by an Ontario certified teacher is provided before our visit to your school.
Workshops are also available that focus on theatre skills including movement, story-telling, improvisation and theatre games, or may be modified to suit your group's needs.  Led by the actors, these workshops are ideal for small groups (maximum of 16 participants) starting at $100 with a performance booking or $125 without.
School performance fees: $650-$750 per show
For further information please contact:
Danielle Chandler
Theatre in Education Director
(807) 345-8033 ext. 231
education@magnustheatre.com
The 2019 Theatre for Young Audiences Tour is made possible with support from:
Tour Sponsor