Streaming Digitally April 12th to 18th 
A Unique, Pandemic-Inspired Romantic Comedy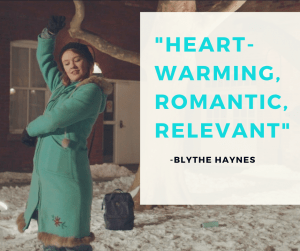 Meet Her and Him. He's looking for commitment. She's looking for a rebound. Venture into a hidden courtyard and join this pair of mismatched millennials as they navigate the complex world of dating in the era of distancing.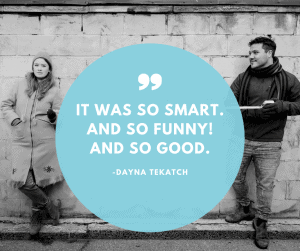 Originally developed as a live outdoor event for a physically distanced audience in Toronto, the project made a pivot to film due to provincial lockdown measures. NOW Magazine calls it "one of the most effective and poignant depictions of two young people looking for love."
Click here to purchase your exclusive link. After purchase, the show can be accessed until April 18th.
The Creators - Ellen Denny & Emilio Vieira
Ellen and Emilio met working on a production at Crow's Theatre in early 2019, but this is their first time co-writing together!
After countless hours of video meetings, rewrites, and watching rom-coms, they are so excited to join with the amazing Sudden Spark team to tell this pandemic love story…
Director - Mairi Babb (she/her)
Mairi is so excited to be creating in the midst of a pandemic winter with these bright sparks! Previous directing credits include 'Diminished' for Driftwood's Trafalgar 24; workshops of 'Metamorphosis' and 'At the Mountains of Madness' for Eldritch Theatre; and 'Early August' for Lighthouse Festival Theatre. Mairi is also a performer, having appeared in shows including 'War Horse' (Mirvish/North American Tour), 'Space Opera Zero' (Eldritch Theatre), 'Educating Rita' (MTC), 'Spider's Web' (Aquarius), and 'Cymbeline' (Shakespeare Bash'd).
Illustrator - Ngabo Nabea (he/him)
Though born in Toronto, Ngabo spent a lot of his childhood travelling and learning abroad, returning to Canada to finish his studies, graduating from Ryerson University's theatre program in 2016. He has since worked as an actor in various productions across Toronto. He is honoured to share his artwork with this incredible team of fellow artists to promote 'february: a love story'. Ngabo is the creator of 'Bo and Biggs', a webcomic about two brothers and the inconvenience that is existence.
Script Supervisor - Sandi Becker (she/her)
Selected credits include: 'Blind Date' (Spontaneous Theatre), 'Simone Half and Half' (Black Theatre Workshop), 'This London Life' (Grand Theatre), 'Every Brilliant Thing' (Festival Players), 'The Black Drum' (Deaf Culture Centre/Soulpepper), 'Torn Through Time' (MTYP), 'Space Opera Zero' (Eldritch Theatre), 'Romeo and Juliet'/'Midsummer Night's Dream' (Canadian Stage), 'Beneath the Ice' (Persephone Theatre), 'Silence' (Grand Theatre/NAC), 'King Lear/Twelfth Night' (Canadian Stage), 'The Harrowing of Brimstone McReedy' (Eldritch Theatre), 'Birds of a Feather' (Roseneath Theatre), 'The Taming of the Shrew' (Driftwood Theatre), 'Ultrasound' (Cahoots/TPM)
Covid Marshall - Lee Stone (they/them)
Lee is an aspiring permanent resident of Canada. They are a graduate of the University of Hawai'i at Mānoa with a BA in Theatre Arts (2013). Their degree has trained them in direction, performance, fight choreography and stage management. They have worked in these fields within UHM and local theatres in Honolulu, Los Angeles and Toronto. Lee has also been an active member of the North American Japanese taiko drum community since 2014. They have trained and worked with world-renowned taiko artists in the United States, Canada and Japan. Their inspiration to create has and will always be social justice.
'Her' - Ellen Denny (she/her)
Ellen is a Toronto-based actor and playwright. Her comedy 'Pleasureville' premiered at Halifax's Neptune Theatre in 2019. Through Musical Stage's Launch Pad program, Ellen was book writer for musical 'What Goes Up' ('RePrint') with composer Colleen Dauncey & lyricist Akiva Romer-Segal. She has multiple projects in development, including 'Wonder' (about Canada's first female nuclear physicist) and 'Project Qyzra', for which she was a 2020 Cayle Chernin Award finalist. Ellen has performed across Canada with companies including National Arts Centre, Mirvish, Manitoba Theatre Centre, and the Segal Centre, receiving a Dora nomination for 'Life After' (Canadian Stage).
'Him' - Emilio Vieira (he/him)
Emilio is an actor-creator based in Toronto. During the pandemic he joined 'The Show Must Go Online', a global initiative to perform Shakespeare's canon over Zoom with international casts, playing in 'Hamlet', 'Merchant of Venice' and 'A Midsummer Night's Dream', available for streaming on YouTube. Emilio is grateful to add this digital work to three seasons at the Stratford Festival and two seasons with Canadian Stage's Shakespeare in High Park. He is looking forward to the premiere of 'february: a love story'.
Lighting Consultant / Gaffer - Jareth Li (he/him)
Jareth is a Toronto-based stage designer. Before the world went on hiatus, he was working on 'The Three Women of Swatow' at Tarragon Theatre. He can't wait to welcome audiences back to the stage… Select lighting design credits include: 'Serving Elizabeth' (Western Canada Theatre), 'Hilot Means Healer' (Cahoots Theatre); 'Copy That' (Tarragon); 'Ring of Fire' (Citadel Theatre); 'Casimir and Caroline', 'The Wolves Rock', 'Lemons'... (The Howland Company); 'Iphigenia and The Furies' (Saga Collectif, Dora Award Nomination); 'Yellow Rabbit' (Silk Bath Collective); 'Chautauqua' (Pearle Harbour); 'Black Boys' (Saga Collectif & Buddies In Bad Times). Jareth is a member of the Associated Designers of Canada, and an instructor at York University. Online @ Jareth.Li
Director of Photography - Ryan McIntyre (he/him)
Ryan attended York university for Film Production, graduating with a BFA in 2014. Directly out of film school he began working in the camera department in the Toronto film industry, both as a Director of Photography and a 1st Assistant Camera. Over the past seven years working in the industry, Ryan has gained a wide depth of experience in all areas of film including narrative features, documentaries, commercials and music videos. Among those films include 'Becky' (2020) starring Kevin James and Joel McHale, 'The Kid Detective' (2020) starring Adam Brody, and 'Astronaut' (2019) starring Richard Dreyfuss and Colm Feore.
Sound Recordist - Reid Goobie (he/him)
Reid attended York University for Film Production, graduating with a BFA in 2014. During that time, he worked for Apple and Shopify before transitioning to working in the Toronto film industry full time as a Production and Post Production Sound Mixer. Reid has worked on a variety of projects ranging from commercials, corporate videos, tv shows and feature films. Some of these projects include 'Shooter' (2017, USA Network), 'Halloween Wars' (2019, Food Network) and Island of Shadows (2020, Lifetime Network).
Editors - Anthony Brancati (he/him) & Madison Wood (she/her)
Anthony and Madison are musicians, event producers, and the founders of A.B. Live Custom Entertainment, an innovative live & virtual entertainment design agency based in Toronto. In their 20+ years of combined experience, they have shared the stage with many Grammy and Juno Award winning artists, released original music, garnered over 10 million views and 47k followers, played in international festivals, written and produced music for film, TV and voice-over, and received awards along the way. They've also worked as content creators on social media campaigns, and done video and sound editing for all of their content as well as the 'Almost Like Being In Love' trailer. Anthony & Madison look forward to bringing 'February: A Love Story' to you at home.
PRODUCER'S NOTES
How are people dating right now? This question set us off on a brand new artistic collaboration, to create and perform a play about love in the time of COVID-19. Recognizing the particular need for stories that combine love and laughter in times of global uncertainty, february: a love story frames finding love not as a fairytale, but as an act of resiliency and hope.
Sudden Spark Collective is a group of Toronto theatre artists that came together in response to COVID-19's impact on the live theatre industry. What started as a plan for an outdoor winter production, then pivoted to a digital production due to lockdown restrictions. Through each new challenge the pandemic wrought, we have persevered in our quest to safely offer timely stories during this dark chapter in our shared history. 
There are so many people to thank for helping make this project a reality. Though we filmed on the coldest weekend of this past winter, our fabulous team, led by director Mairi Babb, were in high spirits as we came together to capture this story. We are so proud to now share it with you, the Magnus Theatre audience, who know a thing or two about winter!
We'd love to hear what you think of february: a love story, so be sure to connect with us on social media @februarytheplay on Facebook, Instagram and Twitter.
Thank you so much for supporting Canadian theatre artists.
Sincerely,
Ellen Denny & Emilio Vieira
Sudden Spark Collective