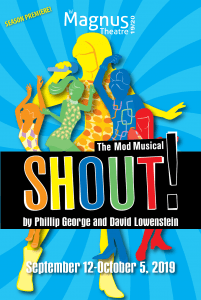 With its irresistible blend of hip-swiveling hits, eye-popping fashions and outrageous dance, SHOUT! The Mod Musical takes audiences back to the music, style and freedom of the 1960s, featuring terrific new arrangements of some of the biggest hits of all time. Traveling in time from 1960 to 1970, SHOUT! chronicles the lives of five young women coming of age and redefining themselves during those glorious days that made England swing.
September 12 - October 5, 2019
Artistic Team
Gallery
Downloads
Phillip George (Creator) West End/Off-Broadway: West End Forbidden Broadway, Meneir Chocolate Factory, Missed Connections (The Ohio Theatre), Shout! The Mod Musical, Forbidden Broadway Alive and Kicking, Forbidden Hollywood, Lost in Utopia (HERE Theatre), Whoop-Dee-Doo (Drama Desk Award, Best Musical Revue), The Road to Qatar (YorkTheatre Company), Forbidden Broadway Cleans Up Its Act, Forbidden Broadway Strikes Back, Forbidden Broadway 2001: A Spoof Odyssey(Drama Desk Award, Best Musical Revue), When Pigs Fly (as Assoc. Director to Mark Waldrop), Miss Pretty Hard (Dance Theater Workshop), Forbidden Broadway 1988–93. London: Kean (nominated for Evening Standard Award, Best Musical), Forbidden Broadway (The Albery), Shout!, Frankly Scarlett; Listen to the Wind, Much Revue About Nothing, Forbidden Broadway, The Famous Five, The Arcadians). Regionally: Forum (5th Ave Theatre, Seattle), Best Little Whorehouse, Footloose, Return to the Forbidden Planet, Annie Get Your Gun, California Suite, American Waltz, Spontaneous Combustion, Vital Components, The Secret Garden (Paper Mill). As a playwright he is currently hard at work on Thrilling Pulp and The Wheels of Chance.
David Lowenstein (Creator) is the co-creator of SHOUT!, THE MOD MUSICAL, which ran in London, off- Broadway, on the Norwegian Cruise Lines, and plays in regional theaters across the country. Off-Broadway, David's choreography has been featured in the Drama Desk award-winning HOWARD CRABTREE'S WHOOP-DEE-DOO!, ON A CLEAR DAY YOU CAN SEE FOREVER, ANYTHING COLE, and SING FOR YOUR SUPPER. Regionally David directed DAMN YANKEES, directed/choreographed THE GREAT AMERICAN TRAILER PARK MUSICAL and MY MOTHER'S LESBIAN JEWISH WICCAN WEDDING, for The Finger Lakes Musical Theater Festival/Merry-Go-Round Playhouse. He staged THE BEST LITTLE WHOREHOUSE IN TEXAS at the Gateway Playhouse, THE MERCHANT OF VENICE at Syracuse Stage, as well as numerous productions in summer stock. On television he staged Vanessa Williams' "Christmas Special" for ABC. David directed BERLIN TO BROADWAY, SUEUSSICAL!, KISS ME KATE, and OKLAHOMA! for SU DRAMA and choreographed LUCKY STIFF and I LOVE YOU BECAUSE. David is Artist in Residence at Cazenovia College where he directed/choreographed SWEET CHARITY, ONCE UPON A MATTRESS, OLIVER, SEUSSICAL, A CHRISTMAS CAROL, BYE, BYE BIRDIE. GREASE, THE LARAMIE PROJECT, YOU'RE A GOOD MAN CHARLIE BROWN, THE SOUND OF MUSIC (SALT Award – Director of the Year), DEAD MAN WALKING, CHICAGO, GODSPELL, and OUR TOWN. As a performer he has been part of 7 original Broadway casts and several off-Broadway, national touring, and regional productions. He has taught audition technique and theater dance for CAP 21/NYU and Le Moyne College. David is a full time Professor of Practice in the Musical Theater Program of Syracuse University's Drama Department. He graduated cum laude with a bachelor of fine arts degree in musical theater from Syracuse University.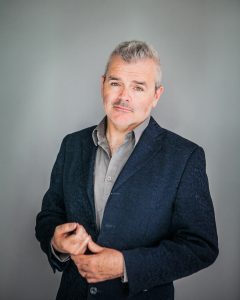 Thom Currie has enjoyed a 25+ year career as an actor, director, playwright, dramaturg and producer. Born in New York and raised in France, Thom has appeared on stage on both sides of the Atlantic, performing in cities such as Paris, London, Amsterdam, Frankfurt and Brussels. Since settling in Toronto, Thom has worked steadily in theatre, film and television, both in English and in French. Thom has worked in theatres across Canada, including Victoria Playhouse Petrolia, Royal Manitoba Theatre Centre, Sudbury Theatre Centre, Stage West (Calgary and Mississauga), Theatre In The Park, The Georgian Theatre Festival, The Showboat Festival Theatre In The Round and Magnus Theatre, among many others. 
Thom's directing credits include over 90 productions, including BANG BANG, The Rocky Horror Show, We Will Rock You, The River, Bed and Breakfast, Monty Python's SPAMalot, Of Human Bondage, Dirty Rotten Scoundrels, Back In 59 They're Playing Our Song, Mending Fences, 2 Across, Mama's Country Record Collection, Peter Pan, Six Dance Lessons In Six Weeks, Sexy Laundry, Urinetown, Crazy For You, A Bench In The Sun, Looking, and Sitting Pretty, in addition to over 50 productions for young audiences.  
Thom has served as Artistic Director at several professional theatres across Canada.  He is currently Artistic Director of Magnus Theatre in Thunder Bay, ON, the only professional theatre between Sudbury and Winnipeg.  Previous to this, Thom was Artistic Director of the Stephenville Theatre Festival (NL), Managing Artistic Director at The Showboat Festival Theatre In The Round (ON), Artistic Director of The Georgian Theatre Festival (ON) and Founding Artistic Director of ReallyLittleTheatre (INTL). 
In addition to writing the jukebox musicals Back In 59, Mama's Country Record Collection and POP! Goes The Sixties, Thom has written 15 musicals for young audiences, which have been performed across North America and Europe. His rock opera for young audiences, Rock 'N' Fables, has the distinction of having the most in-school performances of any musical in Canadian Theatre history.  Thom is the recipient of the Vision TV Over The Fence Award for his television adaptation of his play, The Wish.
Thom has also lectured at University of Toronto, Seneca College and Ryerson University, and has worked as an adjudicator, educator and workshop leader across Canada.