January 30 - February 15, 2020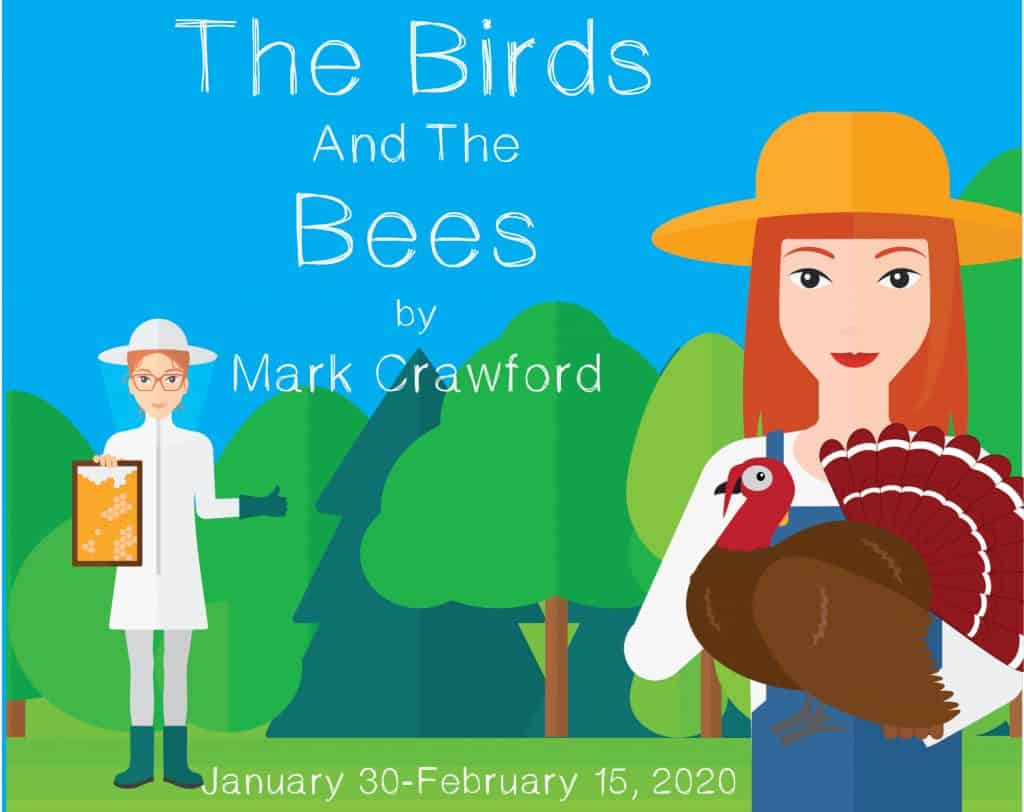 The second half of Magnus' Mainstage season is all about the laughter. The first play of 2020 is Mark Crawford's The Birds and the Bees, a laugh out loud comedy with a huge, honeyed heart that promises to delight audiences with a story about sex, love, science, family…and the artificial insemination of turkeys.
Sarah has just moved back in with her beekeeper mother following a split from her husband. As the women try to adjust to the many changes in their world, their lives are complicated by the community's last ever Turkey Days celebration, beehive troubles, an eccentric neighbor, and a handsome young researcher.
Since premiering at the Blyth Festival in 2016, The Birds and the Bees has enjoyed wide success in cities across Ontario including Port Stanley, Petrolia, Gananoque, Sudbury and Port Dover, and across Canada in Winnipeg, Kamloops and Vancouver.
Audiences may remember Canadian playwright Mark Crawford's hilarious and heartwarming Bed and Breakfast during Magnus Theatre's 2017-2018 season.
"Mark Crawford has a wonderful ear for dialogue and a fantastic eye for detail," said Magnus Theatre artistic director, Thom Currie. "The result is this very funny, very frank, lovely romantic comedy that reminds us of that old adage that life is the thing that happens when you're busy making plans."
The Birds and The Bees is directed by Thom Currie, with set design by Nicholas Palinka, lighting design by Rebecca Miller, and costume design by Mervi Agombar. The cast is a mix of returning performers and some new faces to the Magnus stage. Michael Man plays Ben, a handsome, young entomologist studying the honeybee population on a local farm. Man appeared as Mowgli in Magnus 2016 production of The Jungle Book. Also returning is Catherine Bruce as Gail, a beekeeper and long-divorced mother trying to figure out why some of her bees are dropping dead. Bruce appeared in Magnus Theatre's Collected Stories and Of The Fields Lately. Making her Magnus Theatre debut is Jessica Greenberg as Sarah, Gail's daughter and a turkey farmer whose life has taken a bit of an unexpected turn. Greenberg has recently appeared on stage at Mirvish in King Charles III as well as on television in The Handmaid's Tale and Murdoch Mysteries. Also making his Magus debut is Kristian Truelsen as Earl, a neighbouring farmer with a cheeky sense of humour. Truelsen extensive stage credits include Fiddler on the Roof at Persephone Theatre and The Sound of Music at Citadel Theatre. He's also appeared in film and television roles including The Patriot, Suits, and Murdoch Mysteries.
Pay What You Can Performance: February 9th, 2020