On Stage November 12th-28th, 2020
BASED ON THE TRUE CRIME STORY OF THE BRIDES IN THE BATH MURDERS
Alice, Margaret and Bessie have two things in common: They are all married to the same man, and they are all dead.
Emerging from their clawfoots bathtubs, the brides recount the shocking evidence against the charming con man who took their lives.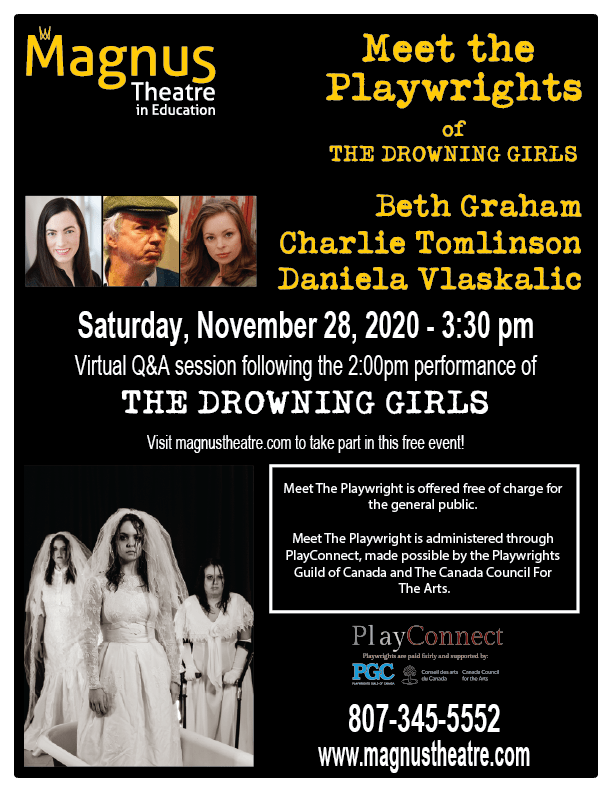 Magnus Theatre Invites Audiences to a Virtual Session of Meet the Playwright 
Thunder Bay (November 26, 2020) – Magnus Theatre will be hosting a live stream of a virtual chat with the playwrights of The Drowning Girls, following the Saturday matinee performance of the show. Beth Graham, Charlie Tomlinson, and Daniela Vlaskalic are a trio of Canadians who collaborated on this haunting tale back in the 1990s.  
Simultaneously macabre, playful, and unabashedly witty, The Drowning Girls is a ghost story about three brides who share two things in common: they all married the same man, and they are all dead. This gripping play is based on the true story of George Joseph Smith, a charming conman and bigamist who preyed upon unmarried women in the early 1900s. He'd woo them, swindle their money, take out life insurance policies on them, and murder them soon after the nuptials. The infamous case became known in the popular British press at the time as the 'Brides in the Bath Murders'.  
Patrons are invited to stay in the auditorium following the performance to join the conversation and ask questions. Those at home will be able watch a live online stream starting at 3:30 pm on Saturday, November 28th and submit their own questions in real-time via Magnus Theatre's YouTube channel or Facebook page. Theatregoers and others interested can also submit their questions to info@magnustheatre.com ahead of the event.  
Meet the Playwright is offered free of charge for the general public. The event is administered through PlayConnect and made possible by the Playwrights Guild of Canada and The Canada Council for the Arts.  
The Drowning Girls runs at Magnus Theatre until the evening of November 28th. Tickets are available online at magnustheatre.com or by phoning the Box Office at 807.345.5552. Public gathering restrictions mean that audiences are capped at 50 people per performance and masks are required inside at all times. Detailed information regarding Magnus Theatre's COVID-19 safety measures is available at magnustheatre.com/covid-19-update/. 
Imagine a Magnus Theatre with unlimited possibilities. Envision enhanced main stage productions with more magic than you've ever experienced on our stage. Donations to Magnus Theatre help to secure the future of professional live theatre in Northwestern Ontario.
Fill out our 2019-20 Patron Survey!
Your Opinion Matters to Us!