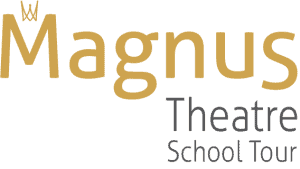 Magnus Theatre's TYA Tour returns with an in-person tour of schools throughout Northwestern Ontario in November 2023. With three productions covering a wide array of ages, our TYA tour brings professional theatre into your school for students to enjoy. Plays for our 23/24 Tour are:
Dib and Dob tells the story of two brothers and the adventures they have on their journey to find home. This is a story about familial love, imagination, and the power of teamwork. It is filled with sight gags and physical comedy. This enchanting combination of physical comedy and puppetry was the winner of the Chalmers new play award and the Dora Mavor Moore Award.
Deep in Simon's basement, there is a secret world of imagination and adventure. When his new friend Abby comes over after school to work on a class assignment, Simon steers their work toward creating a play. Boys, Girls, and Other Mythological Creatures is a thoughtful and hilarious new play about our ability to transform.
Olive wants to research a string of assaults at bus stops in her neighbourhood for the school paper. Unfortunately, she's grounded and spends all her free time working at her parents' deli. Fear of Missing Out is a beautiful coming-of-age play that looks at the tough choices facing teens today; a contemporary tale that honestly navigates conversations and realities of consent, cultural identity, and independence.
| Program | Description | Fee |
| --- | --- | --- |
| Book a Show | Book a live performance to come to your school complete with after show Q&A and study guide. | $900 |
| Multi Show Booking | Book two or more performances | $850 per performance for two or more performances. |
| Early Bird Discount | You can receive an additional $50 off each performance if you book by September 29, 2023 and payment is received by October 13, 2023. | $800 |
| Single Workshop | Workshops are available that focus on basic theatre skills or may be modified to suit your group's needs. Led by the actors, these workshops are ideal for smaller groups (max: 16 participants) | $175 |
| Performance + Workshop | Get $50 off the cost of a workshop when combined with a performance booking | $125 w/ a performance booking |