Magnus Theatre in Education is the premiere theatre training facility in the Thunder Bay area. Our classes and masterclasses are taught by professional actors, directors and educators.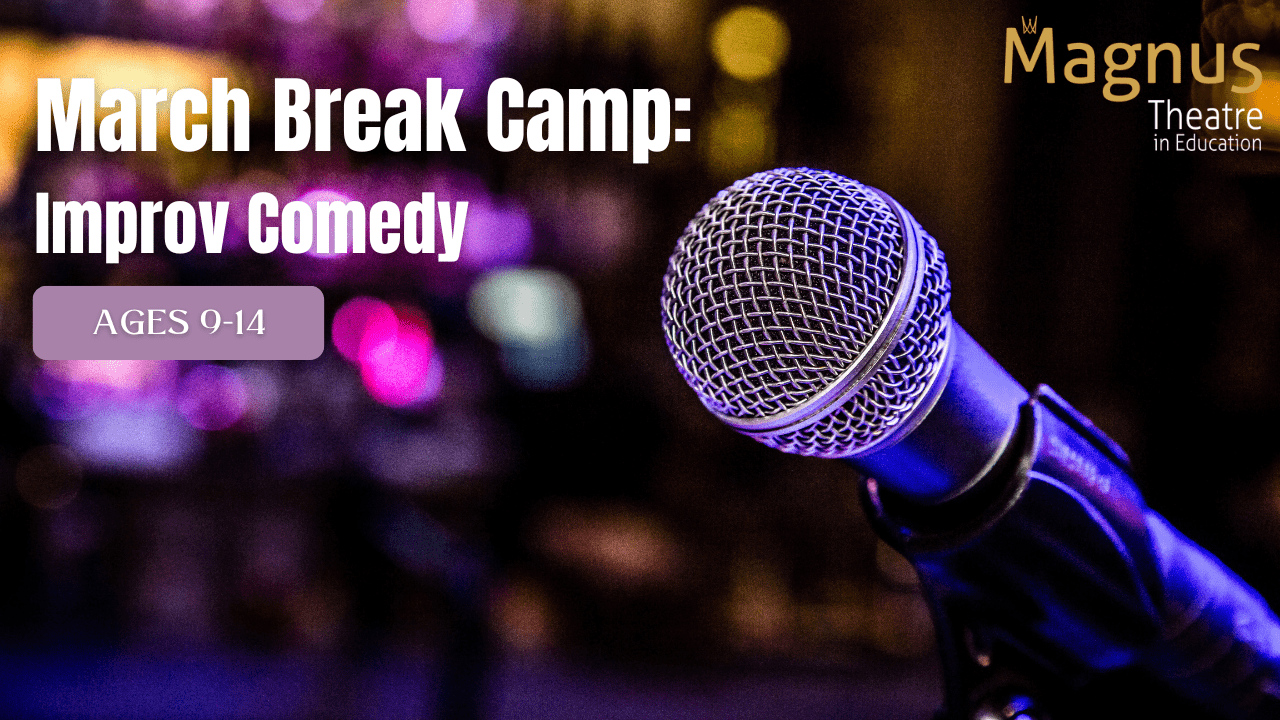 Magnus Theatre in Education's Improv Comedy Camp is jam-packed with fun & games!
Campers will explore the fundamentals of improv and develop skills like creative thinking, self-confidence, listening, brainstorming, team building, empathy, and communication, all while having lots of fun. We will start the day with improvisation before moving into more specialty skills (like stand-up comedy or clowning) after lunch. Kids are encouraged to explore the freedom of movement and self-expression while also developing a better understanding of theatricality and onstage performance techniques. Every day includes exciting new activities and concludes with a skills showcase right here at Magnus Theatre.
Monday, March 13th, 2023 – Friday, March 17th, 2023
9AM – 4PM
Our Minis program, for students aged 6 to 8, is the perfect introduction to the stage. Explore key aspects of theatre in a fun, energetic and imaginative way. Each class delves into a different aspect of making a play, from creating a character to telling a story. Our course culminates in a short performance for an audience of invited friends and family of a play made straight from their own imaginations! Suitable for new and returning participants.
Saturday, January 7th, 2023 – March 4th, 2023 (no class February 18th)
10AM-11:15AM
Our Youth program, for students aged 9 to 12, is perfect for anyone looking to learn new skills and develop existing ones. Each class features a mix of games, warm up activities, structured playmaking and opportunities for fun, creative expression.
Throughout our Youth program we look at a variety of aspects of the world of theatre. Learn how to create a character! Explore theatre's origins in Ancient Greece! Develop your imaginative storytelling. Our course culminates in a short performance for invited friends and family. Suitable for new and returning participants.
Saturday, January 7th, 2023 – March 4th, 2023 (no class February 18th)
11:45AM-1PM
Always wanted to act, but never had the confidence? Did you star on stage at school but haven't set foot since? This step-by-step intro to acting is a fun, stress-free experience where we play our way through the basics of acting, improv & voice and rehearse a scene from a play. Whether you're hoping to pursue a professional acting career, or you're just looking for a fun way to learn some new skills and to meet likeminded people, this introductory course is the one for you!
Wednesday, January 11th, 2023 – March 1st, 2023
7:30PM-9:30PM
Curious about the art of improvisation but don't know where to begin? Improv fundamentals will introduce you to the fast paced, often hilarious, world of improvisation. Each session will examine the building blocks of this essential skill, culminating in a 'Whose Line is it Anyway' style performance invitational where our troupe show off their skills. Designed for newcomers looking to try their hand as well as experienced improvers looking to brush up on their basics.
Monday, January 9th, 2023 – March 6th, 2022 (no class February 20th)
7:30PM-9:30PM
Take Improv to the next level with our advanced skills class. Join our Improv Instructor Jenn as we start to develop scene work and storytelling, refining the very ingredients that make improv such an exciting art form. Explore advanced techniques in a safe, supportive, and fun environment with a final showcase performance here at Magnus Theatre.
Note that Advanced Improv Skills is only open to people who have previous improv experience (e.g., our Improv Fundamentals course or equivalent)
Tuesday, January 10th, 2023 – February 28th, 2023
7:30PM – 10PM