If you have any questions or comments regarding Magnus Theatre, our educational programs, plays, history, or anything else, please feel free to contact us!
Address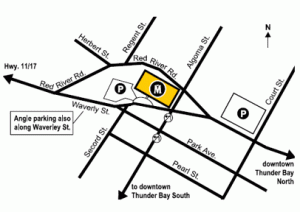 Magnus Theatre
The Dr. S. Penny Petrone Centre for the Performing Arts
10 South Algoma Street
Thunder Bay, Ontario
P7B 3A7
Box Office
Tel: (807) 345-5552
New Box Office Hours:
Monday to Saturday 12:30pm to 7:30pm
Sunday 12:30pm to 4:30pm
PLEASE ACCESS THE BOX OFFICE THROUGH THE WAVERLEY STREET ENTRANCE.
Administration
Tel: (807)345-8033
Fax: (807) 345-0291
Email the following if you would like to...
Make a General Inquiry:   info@magnus.on.ca
Purchase Tickets:  boxoffice@magnus.on.ca
Volunteer:   volunteer@magnus.on.ca
Audition:   auditions@magnus.on.ca
Sponsor Magnus:   sponsorships@magnus.on.ca
Donate to Magnus:   donatetomagnus@magnus.on.ca
Staff & Department
Box Office:   boxoffice@magnus.on.ca
Artistic Director:  artisticdirector@magnus.on.ca
General Manager:   generalmanager@magnus.on.ca
Production:   productionmanager@magnus.on.ca
Publicity:   publicity@magnus.on.ca
Marketing:  marketing@magnus.on.ca
Theatre in Education/School Matinees:   education@magnus.on.ca