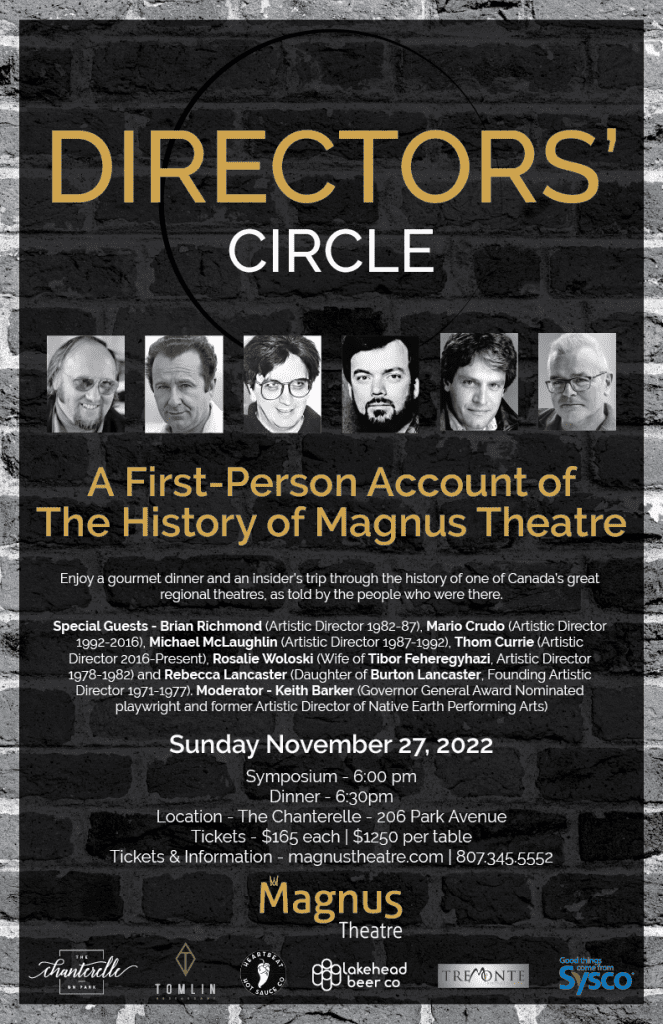 Directors' Circle: A First-Person Account of the History of Magnus Theatre
Magnus Theatre has influenced the careers of hundreds of professional theatre artists and been the starting point for dozens of award-winning world premiere productions. On November 27, 2022, join us at the Chanterelle for a one-time-only retrospective on the history of Northern Ontario's only professional theatre, through the eyes of the people who made it happen.
A singular event in Canadian theatre, the evening will feature a round-table discussion with Brian Richmond (Artistic Director 1982-87), Mario Crudo (Artistic Director 1992-2016), Michael McLaughlin (Artistic Director 1987-1992), Thom Currie (Artistic Director 2016-Present), Rosalie Woloski (Wife of Tibor Feheregyhazi, Artistic Director 1978-1982) and Rebecca Lancaster (Daughter of Burton Lancaster, Founding Artistic Director 1971-1977). The evening will be moderated by Governor General Award Nominated playwright and former Artistic Director of Native Earth Performing Arts, Keith Barker.
Enjoy a gourmet dinner and an insider's trip through the history of one of Canada's great regional theatres, as told by the people who were there.
Sunday, November 27th, 2022
Symposium - 6:00 pm
Dinner - 6:30 pm
The Chanterelle - 206 Park Ave
Tickets - $165 each or $1250 per table
Thank you to our sponsors for making this evening possible: The Chanterelle, Tomlin Restaurant, Heartbeat Hot Sauce, Lakehead Beer Co., Tremonte, and Sysco